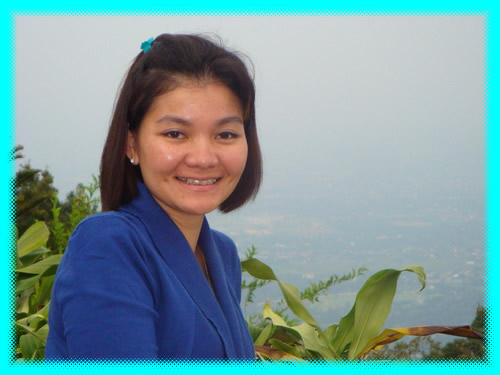 Miss.Sopida Sungsoontorn


Personal Information

Name: Sopida
Date of birth:
Age: 25 Yrs.
Race: Thai
Religion: Buddhist

Family name: Sungsoontorn
April 30, 1981, Ayuttaya, Thailand
Gender: Female
Nationality: Thai
Marital status: Single

Education Profile
Educational Level



Institution

Major

From

To

Bachelor Degree

Suranaree University of Technology

B.Eng.
(Agricultural Engineering)



1999

2003

Master Degree

Thammasat University

M.Eng.
(Mechanical Engineering)



2004

2006

Doctoral Degree

Thammasat University

Ph.D.
(Mechanical Engineering)



2007

Present
Field of Interest
Advanced Computational Modeling (FVM, FEM, FDTD)
Multi-Phase Flow in Porous Media
Heat and Mass Transfer in Porous Media
Microwave and Dielectric Materials interactions
Microwave Heating and Drying
Infrared Heating and Drying
Combined Microwave and Infrared Computational Modeling
Working Experience
• 2003; Cooperative Education Program for one 9-credit trimester, in the field of Agricultural Engineering with the following organization: Sanyo Universal Electric Public Co., Ltd.
• 2004-2006; Analysis of Heat and Mass Transport in Unsaturated Porous Material (One Dimension) Using Microwave.
• 2005 -2006; Assistant Teaching in Engineering Graphics 1-2 .
• 2007-present; Research Center of Microwave Utilization in Engineering ( R.C.M.E. ) Researcher.
• 2008; R.C.M.E. bachelor and master degree project director. ( R.C.M.E. )


Grant and/or Funding
Scholarship
• 2007-2010; The program Strategic Scholarships for Frontier Research Network for the Join Ph.D. Program Thai Doctoral degree from the Commission on Higher Education , Thailand .
Accomplishment
International Journals
Sungsoontorn, S., Rattanadecho, P. and Pakdee, W., " One-dimensional Model of Heat and Mass Transports and Pressure Built-up in Unsaturated Porous Materials subjected to Microwave Energy " Drying Technology An International J. : 29, pp.189-204, 2011: Impact factor 1.048

Sungsoontorn, S., Ratanadecho, P. and Pakdee , W. , "Theoretical Analysis of Heat-Mass Transport and Pressure Built Up in Multi-Layer Porous/slab : Under Microwave Energy Using Lambert's Law" , Drying Technology An International Journal: Impact Factor 1.393 (Submitted)
National Journals
Sungsoontorn, S.

and Ratanadecho, P. , "Theoretical analysis of heat-mass transport and pressure in unsaturated porous material: Under microwave energy (Influence of particle size, electric field intensity and frequency)", KMUTT Research and Development Journal: Vol. 30(3), 2007, pp. 538-551.
National Conference
Sungsoontorn, S. and Ratanadecho, P., "The Analysis of Heat and Mass Transport in Unsaturated Porous Material by Microwave (Influence of Electric Field Intensity, Frequency, Particle Size and Initial Moisture Content)",The 5 th National Symposium on Graduate Research , ST-098, Bangkok, Thailand, 10-11 October, 2005.


Sungsoontorn, S. and Ratanadecho, P., "Theoretical Analysis of Heat-Mass Transport and Pressure in Unsaturated Porous Material : In Case of Providing the Microwave Energy (Influence of Particle Size, Electric Field Intensity and Frequency)", The 20 th Conference of Mechanical Engineering Network of Thailand , TSF011, Nakhon Ratchasima, Thailand, 18-20 October, 2006.


Sungsoontorn, S. and Ratanadecho, P., "Theoretical Analysis of Heat-Mass Transport and Pressure in Unsaturated Porous Media: In Case of Providing the Combination of Infrared and Microwave Energy (Influence of Frequency, Particle Size and Electric Field Intensity)" , The 21 st Conference of Mechanical Engineering Network of Thailand , TSF022 , Chonburi , 17-19 October, 2007.


Sungsoontorn, S. and Ratan adecho, P., "Theoretical Analysis of Heat-Mass Transport and Total Pressure in Multi-Layer Porous/slab: Under Microwave Energy Using Lambert's Law", The 22 nd Conference of Mechanical Engineering Network of Thailand , TSF050, Patumthani , 15-17 October, 2008.



Back to Main Manu